I love children, books and reading so I have been lucky to be able to work in my dream job as a reading teacher and literacy coach. Allen Park is a wonderful, supportive community in which to raise a family and work. I lived in Allen Park for 26 years, starting in an apartment after getting married and then living in two houses over the years with my husband, daughter, a couple of dogs and quite a few other pets. My husband and I are empty nesters now. Our daughter Kayce graduated from MSU, lives in Clarkston and is getting married in February 2022. This will be an exciting year for our family.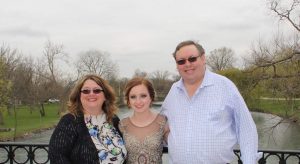 Mrs. Sandy Artman with Kaycee and Dan Artman
I have been fortunate to teach in Allen Park Schools for over thirty years. Throughout my career I have taught 2nd and 3rd grade and have worked with students from kindergarten through middle school. I have my BA in education from U of M- Dearborn with an early childhood ZA endorsement, my MA in Reading from Eastern Michigan University with a Reading Specialist (BR) endorsement, Reading Recovery Teacher Certification through Western Michigan University and have a DIBELS certificate of completion through a DIBELS on-line course. I also attend numerous hours of  literacy instruction training and participate in Wayne County Literacy Leaders Coalition at WRESA to stay current on best practices and materials.
I have taught at both Lindemann and Bennie and love going to work to be greeted by smiles and watch children grow into readers before my eyes!
I oversee Academic Support Programs (Title I/31a/35a) and am lucky to work with dedicated Instructional Aides who go into the classrooms to help our youngest readers learn and improve. My partners at Arno and Lindemann, Beth Wesley and Dianne Addonizio, will serve as Literacy Coaches in the district along with me this school year.
Communicating with parents and working together as a team is important for young readers' development. I am always glad to talk to parents and can be reached by calling the office at 313-827-1300, by email at artman@appublicschools.com, or by sending a note to school.
"When I say to a parent, "read to a child", I don't want it to sound like medicine. I want it to sound like chocolate. " — Mem Fox