On Monday, December 11th, the Allen Park Rotary Club attended the School Board Meeting to present Arno, Bennie and Lindemann with a large check for $7,200! The funds were granted to fulfill a proposal for book sets that was submitted earlier this fall by the district's Reading Specialist team. Dr. Barbara Chuby, Sandy Artman and Georgianna Asteriou wrote the proposal on behalf of the district's elementary teachers and students to purchase additional high-quality book sets for each school's Literacy Library/Guided Reading collections.
Children representatives from all three elementary schools attended the standing-room-only school board meeting to accept the check and thank the Rotary Club members.
They also presented the Rotary Members with thank you cards and a sign made by other students.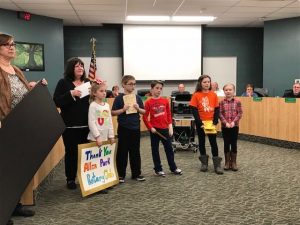 The presentation this night was particularly moving because Georgianna Asteriou, Lindemann's Reading Specialist passed away in November after a battle with cancer. This grant is one of her last "gifts" to her beloved students and colleagues at Lindemann.